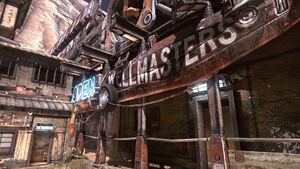 Wellmasters is a location featured in RAGE. The entrance is located in the "Wellmasters" in Wellspring. It is what the citizens of Wellspring use to purify their water supply. At one point in time it was a sewer of some sort, but has since been cleared and used as a purification facility.
The protagonist is forced to travel there during the quest "Hijacked Well" when the Ghost Clan takes it over. Carlson, after triggering the alarm signifying there is a problem, will explain that the Ghosts have planted some sort of toxin into the water supply and that it could cripple the whole town which he cannot allow to happen.
The player can only enter the Well during "Hijacked Well".
Characters
Edit
Associated quests
Edit
Ad blocker interference detected!
Wikia is a free-to-use site that makes money from advertising. We have a modified experience for viewers using ad blockers

Wikia is not accessible if you've made further modifications. Remove the custom ad blocker rule(s) and the page will load as expected.