For the list of personal quick-use items carried by Nicholas Raine, see Quick-use items.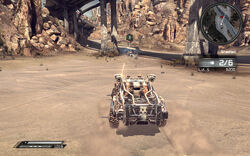 The vehicle quick-use items featured in RAGE are a vital part of succeeding at Vehicle Combat in both the racing events during the Campaign and the multiplayer mode Road Rage. Many of them can be bought from vendors throughout the Wasteland, and can also be unlocked in Road Rage by leveling up.
Some of the quick-use items used in the Campaign are unavailable in Road Rage, and vice versa.
Ad blocker interference detected!
Wikia is a free-to-use site that makes money from advertising. We have a modified experience for viewers using ad blockers

Wikia is not accessible if you've made further modifications. Remove the custom ad blocker rule(s) and the page will load as expected.