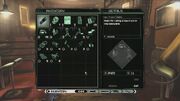 The Tow Truck Radio is a quest item featured in RAGE. It must be picked up by the protagonist in the mini-quest "Grab the Radio". The protagonist can later use it through his inventory to call either Durar Hagar, Mick, or Saul, depending on where he is in the Wasteland, if their car is inaccessible and must be towed. Additionally, using the radio fully repairs your vehicle.
Can be used to call fully repair the player's vehicle while in the Wasteland.
Ad blocker interference detected!
Wikia is a free-to-use site that makes money from advertising. We have a modified experience for viewers using ad blockers

Wikia is not accessible if you've made further modifications. Remove the custom ad blocker rule(s) and the page will load as expected.