The Scorchers
Talk

3
676pages on
this wiki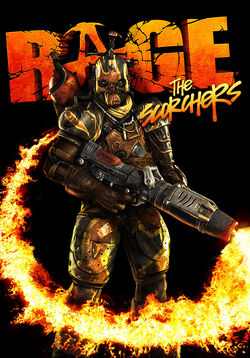 "With a burning hatred that consumes all it touches, the Scorchers aim to eliminate all life through a sadistic plot to destroy the Wasteland. What they didn't count on… a hero who fears nothing. Jump back into action with guns blazing and prepare to save humanity once again in RAGE: The Scorchers. With new allies, new weapons and new missions to conquer, you'll take on overwhelming odds to become the savior the Wasteland needs."
―Official description
The Scorchers is a downloadable content pack for RAGE released on December 18, 2012 for all platforms. It is available for $4.99 on PSN

and Xbox LIVE

. At first, it was only made available for North America, a part of Europe and Australia, and only on November 23, 2013 it was made available for the rest of the game owners.
The DLC features new weapons, characters and a whole new questline revolving around the Scorchers, a bandit clan cut from the final release of RAGE, only encountered via Vehicle Combat in the base game.
Description
Edit
RAGE: The Scorchers features many new locations, including the Hagar Caves, Bash Canyon, and other places previously visible but not accessible in the game, such as the Jackpots casino in Wellspring. It also features the "overpowering and brutal" Nail Gun, along with many new Scorcher enemy types.
During the course of the story, you are partnered with a new character, Sarah, to track down the Scorchers, gather information on their next moves, and stop whatever it is they are planning. The player also participate in another round of Mutant Bash TV, this time in Bash Canyon, a new, much more dangerous location resembling Jackal Canyon.
The Scorchers has been confirmed to be the final DLC for RAGE.
The Scorchers DLC adds an all new difficulty known as "Ultra-Nightmare" to RAGE.
External links
Edit