"The Missing Parts" is a quest in RAGE given to the protagonist by Durar Hagar in Hagar Settlement. It is available after completing the quest "Medical Supplies".
You bring back those parts, and I'll get this Buggy back on the road.
Objectives
Edit
Take the List of Parts over to Johan at the Outrigger Settlement

Head back West to the Outrigger Settlement
Give Johan the list of Buggy Parts
Walkthough
Edit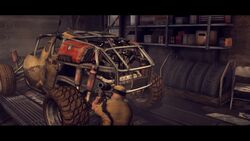 Durar will send you to Johan Outrigger who assigns you the "Find the Buggy Parts" mission, at which point the quest "The Missing Parts" will be finished. So, drive back to the Outrigger Settlement, hand Johan the list, receive some Fatboys and the Lock Grinder schematic along with the ingredients needed for assembling one (Electrical Wire Kit, Hardware Packet, and Small Gears), and get started.
Ad blocker interference detected!
Wikia is a free-to-use site that makes money from advertising. We have a modified experience for viewers using ad blockers

Wikia is not accessible if you've made further modifications. Remove the custom ad blocker rule(s) and the page will load as expected.