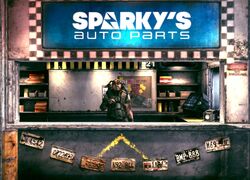 Sparky's Autoparts is a location featured in RAGE. It is an autoshop located in Subway Town owned and operated by Sparky. The protagonist can buy different items to improve his vehicles here, such as vehicle upgrades and quick-use items, most improvements upon that of what is offered at Rusty's Autoparts in Wellspring. It is located on the deepest level of Subway Town after descending down some stairs and turning right.
Unlike Rusty, Sparky will sell items to the protagonist even if he has not completed a race at the Subway Town Speedway.
Ad blocker interference detected!
Wikia is a free-to-use site that makes money from advertising. We have a modified experience for viewers using ad blockers

Wikia is not accessible if you've made further modifications. Remove the custom ad blocker rule(s) and the page will load as expected.