"Collection of all the random, useless junk you've picked up. Just sell it."
―Description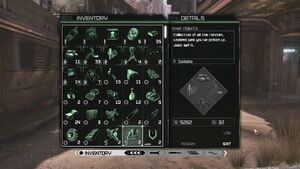 Small Objects are miscellaneous items in RAGE and RAGE: The Scorchers. Often found by Nicholas Raine in different locations, they have no use in the Wasteland and can only be sold to vendors for $4 per object.
This is a list of items which are considered Small Objects:
Black Coffee Mug (Doom)
Cheap Dress Shoes
Clipboard
Gauze Sponges[1]
Headphones[2]
Hook
Huffer's Aerosol
Krimson Aerosol
Mix-o-Med Plastic Bandages
MixomCam
Mushrooms[3]
Old Hiking Boots
Paint Can
Radio
Rusted Griddle
Rusted Ladle
Sauce Pan
Spray Paint
Suitcase
Toaster
White Coffee Mug
The White Coffee Mug model is also used (as a result of accidental or intentional developer's bug) for displaying the Blow Torch, which is placed under the Tools category.
References
Edit
Ad blocker interference detected!
Wikia is a free-to-use site that makes money from advertising. We have a modified experience for viewers using ad blockers

Wikia is not accessible if you've made further modifications. Remove the custom ad blocker rule(s) and the page will load as expected.