Featured article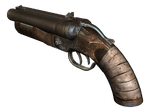 The Double Barrel Shotgun is an exclusive weapon featured in RAGE that comes with the Anarchy and Campaign Editions of the game. The Double Barrel Shotgun is a sawed-off version of a standard barrel length weapon. The shorter barrels give the shotgun a better spread at close range, though making it less suitable for longer range firefights. It is a single shot weapon as it unloads both barrels simultaneously, which means the player will need to reload this weapon after each shot. The shotgun is mainly used for close quarter combat and can be effective against almost any type of enemy. Read more…
Did you know…

…that the name of the player character is

Nicholas Raine

?

…there are about 19 different sorts of ammunition in the game RAGE?

…there are 54 different cards you can collect to use in the minigame "Rage Frenzy"?

…there are over 16 schematics in RAGE?

…that the "Arks" were shelters made to help selected people survive the impact of the asteroid 99942 "Apophis"?

…RAGE is set in a post-apocalyptic version of a wasteland created by an asteroid impact, based on the real-life asteroid 99942 "Apophis"?

…that there are 5 different types of vehicles available in the game?

…that mutants, unlike normal human enemies, disintegrate a few seconds after they are killed?

…that the Resistance is a group of people who oppose the Authority?

Poll

How long did you take to finish Rage?

 
Helping out
All pages can be edited and you are welcome to
join us
and contribute to this wiki. Everyone is free to create a new page or edit an
existing one
. If you have any questions about the wiki or helping out, you can ask one of the
administrators
.
RAGE News
Create blog post
Latest News
On May 13, 2016, id Software and Bethesda Softworks released Doom for Playstation 4, Xbox One, and Windows after nearly eight years in production. This is the first installment of the Doom franchise since Doom 3 in 2004. Much of Doom'sproduction cycle affected the development of both RAGE and RAGE 2 directly…

Read more >

Hello everyone out there.

I'm Nick, the de facto flag-bearer of the RAGE Wiki since early 2013. I think.

The RAGE Wiki has seen better days. Its highest point was in mid-to-late 2011 when RAGE was released for Xbox 360, PS3, and the PC. Since that time, the Wiki's community has steadily declined. It p…

Read more >

Hey all! Nick here. Back from what has been nearly a year of inactivity that I simply can't excuse. Shame on me!

Anyways, for those of you who don't know me, I joined the wiki a few years ago under the name "AKtrollin" and have since changed to this incorrectly translated Latin name of mine that I c…

Read more >
See more >
More news…