Prima Official Game Guide
Talk

0
670pages on
this wiki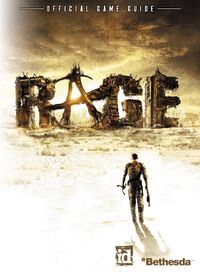 "At the beginning of RAGE, John Goodman's character, Dan Hagar, will lend a hand in surviving the wasteland. But what about the rest of the game? Fear not, Prima's got your back!"
―Bethesda Blog
RAGE Official Game Guide was written by David Knight and published by Prima Games / Random House on October 4, 2011 (ISBN 978-0-307-46999-1). It was first mentioned in the official Bethesda Softworks blog on September 19, and announced there on October 3. The guide features 240 pages of both entertaining and useful information that concerns virtually every aspect of the game, including the details that matter but are not actually displayed anywhere, such as the vehicles and weapons ample specifications and maps of the Wasteland and every location worth of drawing a map.
Fully labeled maps of the Wasteland.
Detailed walkthrough covers main story and all side missions.
Friend or foe? Get to know the denizens of the wastes with our breakdown of every faction.
Rule the rally with complete stats on every vehicle and strategies for upgrading them!
Equip yourself with the optimal loadout using our weapons chapter: we provide complete stats and customization tips for every weapon!
Play RAGE three ways — we've got the strategies covered for single-player, two-person co-op and full multiplayer modes.
Background
Edit
David Knight, a long-time FPS fan, spent countless hours honing his skills on Wolfenstein 3D, Doom, and Quake. He was given an early build of RAGE, and had spent two more weeks gibbing opponents found in the Wasteland, both human and mutant. He then met Tim Willits, RAGE's creative director, in the id Software office in Dallas. Throughout the day Tim Willits provided the author with every bit of information he could ever want to know about the game. He scheduled appointments for David Knight, allowing him to talk to a variety of team members. By the end of the visit, David had recorded more than seven hours of audio notes, picking up hints and tips from everyone he met.
Description
Edit
The guide splits the Campaign content into two separate chapters. It starts with a walkthrough of the Campaign. For those who want to experience everything RAGE has to offer there is the Extended Play chapter that contains details on every side quest, race, Vehicle Jump, minigame, as well as every other Wasteland activity one can complete to earn cash or enhance the player character. Wasteland Compendium that was designed as a quick reference tool allows readers to quickly look-up critical information, along with a handy gallery of every Rage Frenzy Collector Card.
Beyond the print guide, there's also a digital game guide, available on the web. This guide offers everything available in the print guide, with the added benefit of interactive maps and video complete with zoom functionality. The maps also allow one to toggle collectibles and other points of interest on and off, providing a more streamlined approach for dedicated Wasteland scavengers. (See link below.)
This overview is largely based on the David Knight's interview in the Bethesda Blog. If you like the article, it's recommended to read the full Bethesda Blog post. (See link below.)
Prima Games has also released RAGE Strategy App for the iPhone and iPad in October 2011. This "RAGE Strategy and Interactive Map Pack" offers the functionality of the digital game guide mentioned in the article. (See link below.)
External links
Edit