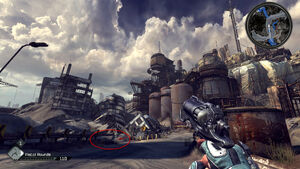 The Outrigger Territory is one of the territories featured in RAGE and is located in the Northern Wasteland. It is the home of the Outrigger Settlement and the Outrigger Sewers. It is one of the smallest territories in RAGE.
It consists of what looks like a pre-Apophis tollbooth making up the entrance, a road that has the Outrigger Sewers on the right, the settlement on the left, and the refinery with some Feltrite Crystals near it at the end of the road.
Associated quests
Edit
Ad blocker interference detected!
Wikia is a free-to-use site that makes money from advertising. We have a modified experience for viewers using ad blockers

Wikia is not accessible if you've made further modifications. Remove the custom ad blocker rule(s) and the page will load as expected.