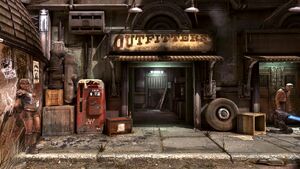 The "Outfitters" is a location featured in RAGE. It is a store in the Wellspring promenade run by the vendor Coffer. Here Nicholas Raine can purchase various weapons, ammunition, and engineering items. Coffer also sells some schematics and the Starter Deck.
In the "Outfitters" the player can choose between the Fabricator, Roughneck, and Wastelander outfits (and the Crimson Elite armor if the Anarchy or Campaign Edition is installed) during the quest "Changing Clothes".
Ad blocker interference detected!
Wikia is a free-to-use site that makes money from advertising. We have a modified experience for viewers using ad blockers

Wikia is not accessible if you've made further modifications. Remove the custom ad blocker rule(s) and the page will load as expected.