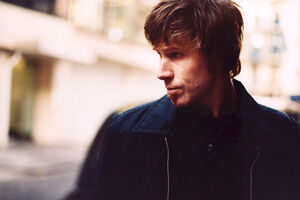 "…Mark Lanegan has left an indelible mark on American contemporary music."
―RAGE official site
Mark Lanegan (born November 25, 1964) is a famous American alternative rock musician and singer-songwriter and the author of the song Burning Jacob's Ladder featured in the RAGE trailer Untethered and during the credits of RAGE. It was written by the artist for the id Software's upcoming game RAGE and released as a single in 2011. The song can now be downloaded as an MP3 (MPEG Layer 3) file from the id Software's official RAGE site[1].
Born and raised in Ellensburg, Washington, Lanegan began his musical career in 1985, forming the grunge band Screaming Trees with Gary Lee Conner, Van Conner and Mark Pickerel. During his time in the band, Lanegan also started a low-key solo career and released his first solo studio album, The Winding Sheet, in 1990. Since 1990, he has released a further six studio albums and has received significant critical recognition and moderate commercial success. Lanegan has a distinctive baritone voice that has been described "as scratchy as a three-day beard yet as supple and pliable as moccasin leather"[2] and compared to Tom Waits[3].
Lanegan has also collaborated with various artists and bands throughout his career. Following the dissolution of The Screaming Trees in 2000, he became a member of Queens of the Stone Age and is featured on three of the band's albums: Rated R (2000), Songs for the Deaf (2002) and Lullabies to Paralyze (2005). Lanegan also formed The Gutter Twins with Greg Dulli in 2003, released three collaboration albums with former Belle and Sebastian singer Isobel Campbell, and contributed to releases by Melissa Auf der Maur, Martina Topley Bird, Creature with the Atom Brain, Bomb the Bass, Soulsavers and Mad Season.
References
Edit
External links
Edit
Ad blocker interference detected!
Wikia is a free-to-use site that makes money from advertising. We have a modified experience for viewers using ad blockers

Wikia is not accessible if you've made further modifications. Remove the custom ad blocker rule(s) and the page will load as expected.