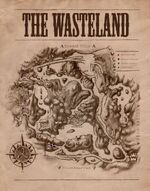 Throughout the RAGE Wastelands lie numerous locations. Some are home to human settlements, whereas others hold more inhuman creatures.
Following the storyline Nicholas Raine will find himself in such locations as the Hagar Settlement, Wellspring, and Subway Town. The quests given to him will lead him further into the Wasteland, where he will enter homes of bandits, mutants, and the Authority.
List of Locations (Alphabetical Order)
Edit
Ad blocker interference detected!
Wikia is a free-to-use site that makes money from advertising. We have a modified experience for viewers using ad blockers

Wikia is not accessible if you've made further modifications. Remove the custom ad blocker rule(s) and the page will load as expected.