"Contains all of the playing cards needed to play "Rage Frenzy"."
―Description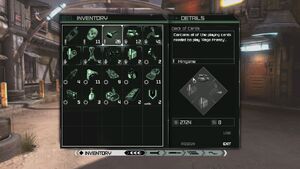 The Deck of Cards is an item featured in RAGE. It will appear in your inventory the moment you pick up a collector card. The deck saves all the cards you collect in the Wasteland. It is required to play the Rage Frenzy minigame.
For the locations of all the collector cards, see Collector Cards.
Ad blocker interference detected!
Wikia is a free-to-use site that makes money from advertising. We have a modified experience for viewers using ad blockers

Wikia is not accessible if you've made further modifications. Remove the custom ad blocker rule(s) and the page will load as expected.