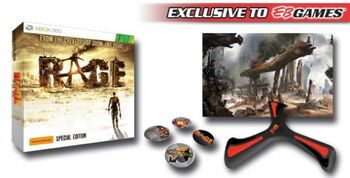 The Collectors Edition of RAGE was only available for pre-order at EB-Games in Australia. It can now only be bought through online purchase.
An exclusive Wingstick Prop
Six exclusive RAGE badges
An exclusive numbered print (poster) of the game (only made 10,000)
Ad blocker interference detected!
Wikia is a free-to-use site that makes money from advertising. We have a modified experience for viewers using ad blockers

Wikia is not accessible if you've made further modifications. Remove the custom ad blocker rule(s) and the page will load as expected.