Dan Hagar is one of the 54 Collector Cards in RAGE to be played in the minigame Rage Frenzy.
The card is located in the "Ray's Oasis" building in Hagar Settlement. It is near the beds along the south wall, in the southeast corner.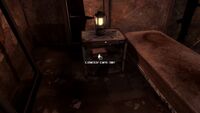 Ad blocker interference detected!
Wikia is a free-to-use site that makes money from advertising. We have a modified experience for viewers using ad blockers

Wikia is not accessible if you've made further modifications. Remove the custom ad blocker rule(s) and the page will load as expected.