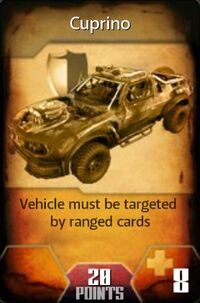 Cuprino is one of the 54 Collector Cards in RAGE to be played in the minigame Rage Frenzy.
This card is received after winning the Dusty 8 Sponsored Event at Wellspring and returning to Sheriff Black to complete the quest "Cuprino Needed", where it is just handed to Nicholas Raine.
Ad blocker interference detected!
Wikia is a free-to-use site that makes money from advertising. We have a modified experience for viewers using ad blockers

Wikia is not accessible if you've made further modifications. Remove the custom ad blocker rule(s) and the page will load as expected.