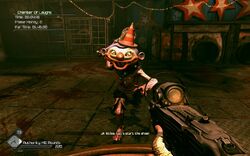 The Clownfaces are collectible items featured in RAGE. They can be found when playing the Wasteland Legends co-op missions.
There are three masks per level (except for the "Rusty's Resupply" Legend), located in the nooks and crannies of the map. Some appear by hitting a certain button hidden in plain sight. Others can be found in much more hidden places, such as stashed between a wall and debris. Collecting all of the clownfaces will earn the player a multiplayer emblem.
Locations
Edit
04:35

RAGE - ClownFace Collectables
Ad blocker interference detected!
Wikia is a free-to-use site that makes money from advertising. We have a modified experience for viewers using ad blockers

Wikia is not accessible if you've made further modifications. Remove the custom ad blocker rule(s) and the page will load as expected.