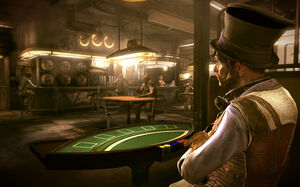 There are over a hundred non-playable characters in RAGE. For the most part they are just humble residents at different in-game locations or enemy grunts who neither have noticeable individual impact on the story line nor provided with a significant way of interactions with the protagonist. However a considerable number of characters are involved in various quests, a few of them provide different items or information to Raine, and a smaller number of the characters are the game's key figures. Also, some characters are involved (although mostly as figures only mentioned by the narrator) in the Wasteland Legends plots.
List of characters
Edit
Protagonist:
Ad blocker interference detected!
Wikia is a free-to-use site that makes money from advertising. We have a modified experience for viewers using ad blockers

Wikia is not accessible if you've made further modifications. Remove the custom ad blocker rule(s) and the page will load as expected.