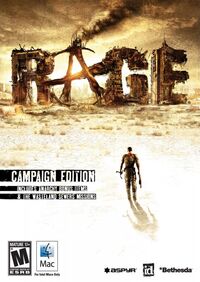 RAGE: Campaign Edition is an exclusive Mac version of the game. It was released for Macintosh on February 2, 2012 in a form of digital download by Aspyr Media, Inc. The Campaign Edition features the full, unaltered RAGE single-player campaign, bonus equipment formerly exclusive to the Anarchy Edition (Double Barrel Shotgun, Fists of Rage, Crimson Elite armor, and Rat Rod buggy), and access to the bonus Wasteland Sewer Missions DLC which feature additional mutant blasting gameplay and looting opportunities.
The RAGE multiplayer is not present in the Campaign Edition, thus the name.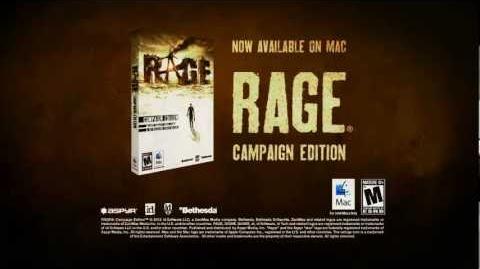 System requirements
Edit
Minimum system requirements
Edit
Operating System: 10.7.2 (Lion)
CPU Processor: Intel Core 2 Duo (Dual-Core)
CPU Speed: 2.4 GHz
Memory: 4 GB RAM
Hard Disk Space: 25 GB
Video Card (ATI): Radeon HD 3870
Video Card (NVidia): Geforce 8800
Video Memory (VRam): 256MB
Peripherals: Macintosh mouse and keyboard
Supported Video Cards
Edit
nVidia GeForce 8800, 9600, GT 120, 330M
ATI Radeon HD 3870, 4670, 4850, 5670, 5750, 5770, 5870, 6630M, 6750M, 6970M
Intel HD Graphics 3000
Languages
Edit
English, French and German
Integrated video chipsets are not supported (GMA 950 Mac Mini (2006, 2007), iMac (2006), MacBook (2006, 2007), GMA X3100 MacBook (2007, 2008), MacBook Air (2008–2011))
Apple Intel chipsets only
This game is not supported on volumes formatted as Mac OS Extended (CaseSensitive)
External links
Edit
Ad blocker interference detected!
Wikia is a free-to-use site that makes money from advertising. We have a modified experience for viewers using ad blockers

Wikia is not accessible if you've made further modifications. Remove the custom ad blocker rule(s) and the page will load as expected.