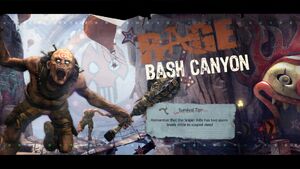 Bash Canyon is a location featured in RAGE: The Scorchers. The protagonist must visit Bash Canyon and participate in a second season of Mutant Bash in the quest "Ticket to Oasis" in order to get a ticket to the settlement of Oasis so Clive can escape the Scorchers.
The Bash Canyon resembles that of the Jackal Canyon as there are many pathways, ravines, and canyons that mutants climb out of, along with unique weaponry and path options.
Unlike the slime mutants in Dead City, you cannot loot their bodies.
Similar to the original Mutant Bash TV, the final battle is with a Kraken.
Unlike the original Mutant Bash TV, the bonus round can actually be won.
Unlike the original Mutant Bash TV, this "episode" cannot be replayed.
Ad blocker interference detected!
Wikia is a free-to-use site that makes money from advertising. We have a modified experience for viewers using ad blockers

Wikia is not accessible if you've made further modifications. Remove the custom ad blocker rule(s) and the page will load as expected.