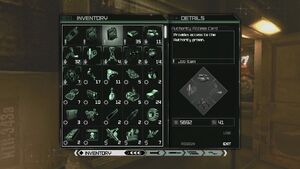 The Authority Access Card is a Quests item featured in RAGE. It is acquired by the Nicholas Raine at the start of the "Liberate Captain Marshall" quest. It is used to access the Authority Prison, and serves no other purpose. 
Item use
Edit
Required to gain entry to the Authority Prison.
In the dossier, the card shares the same icon with the Key Card.
Once obtained, it will stay in your inventory forever.
Ad blocker interference detected!
Wikia is a free-to-use site that makes money from advertising. We have a modified experience for viewers using ad blockers

Wikia is not accessible if you've made further modifications. Remove the custom ad blocker rule(s) and the page will load as expected.