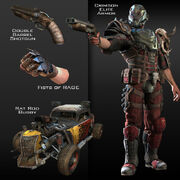 The Anarchy Edition of RAGE is a bonus content pack, which was initially only available by pre-ordering the game from select retailers. Many retailers were shipped a significant stock of copies of the Anarchy Edition and therefore sold them for months after the game was released, however.
The Anarchy Edition features an exclusive vehicle, a melee weapon (spiked Fists), a sawed-off shotgun and a special armor. It also includes a single use code that gives the player the Wasteland Sewer Missions DLC for free.
On February 15, 2012, the Anarchy Edition was made available for purchase on the Xbox Games Store and PlayStation Store for $1.99.
00:41

Rage Anarchy Edition Trailer Pre-Order (HD 720p)
Ad blocker interference detected!
Wikia is a free-to-use site that makes money from advertising. We have a modified experience for viewers using ad blockers

Wikia is not accessible if you've made further modifications. Remove the custom ad blocker rule(s) and the page will load as expected.