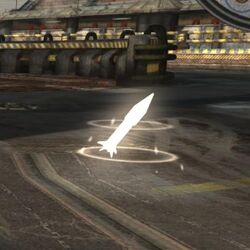 The Ammo Recharge is a racing pick-up featured in the multiplayer mode Road Rage in RAGE. When picked up, this power drop gives the player 12 rounds for any secondary vehicle weapon they use.
This respawning power drop is one of the most common pick-ups in Road Rage. It's especially useful for the players who've just begun playing Road Rage since the Machine Guns aren't very effective and the players are forced to use the Homing Missile secondary weapon often. The Homing Missile isn't terribly accurate and the Ammo Recharge must be picked up often to make it up for the ammunition loss. It can also be used by the more skillful players who run out of ammo quickly.
It's recommended that the players use Armor Restore to escape the fight they are in and head for this pick-up before they run out of ammo because having an ammo reserve is always advantageous.
Ad blocker interference detected!
Wikia is a free-to-use site that makes money from advertising. We have a modified experience for viewers using ad blockers

Wikia is not accessible if you've made further modifications. Remove the custom ad blocker rule(s) and the page will load as expected.