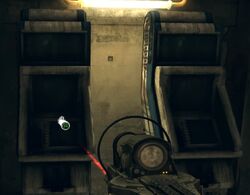 ATMs are the in-game version of the automatic teller machines featured in RAGE. They are found in several locations throughout the Wasteland, both in the Campaign and the Wasteland Legends.
When active, they dispense money (up to $50), and reset each time the level is entered, allowing the players to make money on each visit. The Gearhead Vault is the easiest place to abuse this, featuring eight ATMs relatively near the entrance.
Despite the fact that dollars are completely useless in the co-op, the eight ATMs in the Gearhead vault may be working during the mission "A New Toy", letting the players to obtain an unspecified amount of money.
Ad blocker interference detected!
Wikia is a free-to-use site that makes money from advertising. We have a modified experience for viewers using ad blockers

Wikia is not accessible if you've made further modifications. Remove the custom ad blocker rule(s) and the page will load as expected.